Our "Meet Our NH Insurance Agents" blog series introduces you to the agents, one at a time, who serve you here at Eaton & Berube. Get to know your agent a little better, from both a professional and personal perspective. In our second blog post, meet Debbie Rioux, our commercial lines account manager who has been part of the Eaton & Berube team for nearly two decades!
---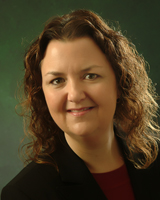 Over the past few weeks, you may have noticed our efforts to help spread the word about the upcoming 10th Annual Rotary Rock'n Ribfest. As a proud sponsor of the fundraiser, we are looking forward to the Ribfest kickoff next weekend, but within our agency, there is another event worth celebrating next Friday. In fact, Friday, June 15, marks our Commercial Lines Account Manager Debbie Rioux's 20th anniversary with Eaton & Berube.
"Debbie has been an integral part of our team over the past 20 years," said Eaton & Berube President Marc Berube. "We appreciate all of her hard work and many contributions to the agency."
Over the past two decades, Rioux has enjoyed serving her clients, from helping new clients secure their business insurance coverage, to assisting existing clients with any coverage questions they have.
"I really enjoy coming in every day, working with my co-workers and helping clients with their insurance needs," Rioux said.
On a daily basis, Rioux quotes new NH business insurance policies with the different insurance company partners we represent to find the best coverage and rates, writes these policies for new clients, and services existing clients' accounts. From worker's compensation coverage and commercial auto insurance to business owners' policies and commercial and professional liability insurance, Rioux handles all different types of business insurance needs.
After 5:00 p.m. and on the weekends, Rioux can be found spending as much time as possible with her granddaughter, who is turning 1 year old this month. Outside of the office, she also enjoys outdoor activities including running, bike riding and hiking.
"I do 5K charity races once a month," she said, adding that this year, she has participated in races to benefit the Nashua Soup Kitchen and The Wounded Warrior Project, and will run in the Telegraph's Santa Fund Run and Bridges: Domestic & Sexual Violence Support's Kelly Mann Memorial 5K.
"I'm looking forward to participating in my first sprint triathlon on June 10," Rioux said. This triathlon, known as the Greater Nashua Sprint Triathlon, will be presented by the YMCA of Greater Nashua and the Center for Physical Therapy and Exercise, and will be held at Camp Sargent in Merrimack. The event raises funds for the YMCA Strong Kids Campaign as well as the Granite State Children's Alliance.
Debbie Rioux can be reached at 603-689-7224 or via email at drioux@eatonberube.com.